Solderstar Thermal Profiling
Thermal Profiling Solutions for Electronic Manufacturing applications, including reflow, wave, selective and vapour phase soldering.
SolderStar
SolderStar is one of the world's leading thermal profiling solution providers, with over a decade of specialising in the design, development and manufacture of profiling systems within the electronics manufacturing industry.
Their range of products satisfies all of today's thermal process control needs, from full-feature high performance product profiling for reflow, wave, vapour and selective solder processes, to fully integrated SPC capabilities for continuous quality and process control.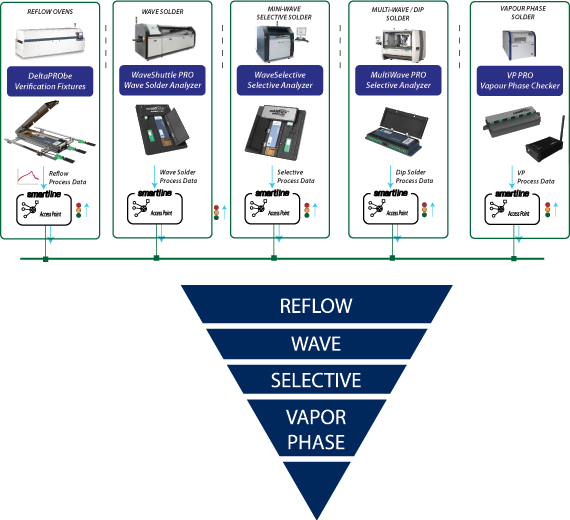 Smartline X Software
Smartline-X from Solderstar, is a next generation profiling platform that streamlines the whole procedure of verifying your soldering processes across your manufacturing sites. A reference profile is captured from each of your soldering processes, and then used along with a set of process rules to validate any future profiles captured by your team. The rules can be as advanced or as simple as your like, it is totally flexible.
Smartline-X provides much more than just process traceability. Live views are provided that instantly update when new data is available, these provide real-time SPC charting and Cpk calculations. Control limits are fully definable allowing fine tuning and live trend plotting of every parameter captured.
Solderstar APS Software
SolderStar's APS system provides full time process monitoring of a soldering process, recording process conditions and the temperature profile for every electronic assembly produced. Ultra-thin sensor probes are mounted along the length of the oven to measure product level temperature.
Product speed and position are monitored by dedicated speed monitoring instrumentation, combined with optical sensors and a new software algorithm, resulting in a 'True Profile' for every board processed.  The process conditions and profile are stored with a unique ID in a database for complete traceability.