Local Exhaust Ventilation (LEV) Testing
Prevention of workplace lung disease is better than a cure. Book your LEV health check today and ensure your equipment if working effectively.
What is LEV?
Every year, thousands of workers in Britain develop occupational diseases from breathing in certain dusts, fumes or other airborne contaminants at work. LEV is an extract ventilation system that takes dusts, mists, gases, vapour or fumes out of the air so that they can't be breathed in. Properly designed LEV will:
collect the air that contains the contaminants
make sure they are contained and taken away from people;
clean the air (if necessary) and get rid of the contaminants safely.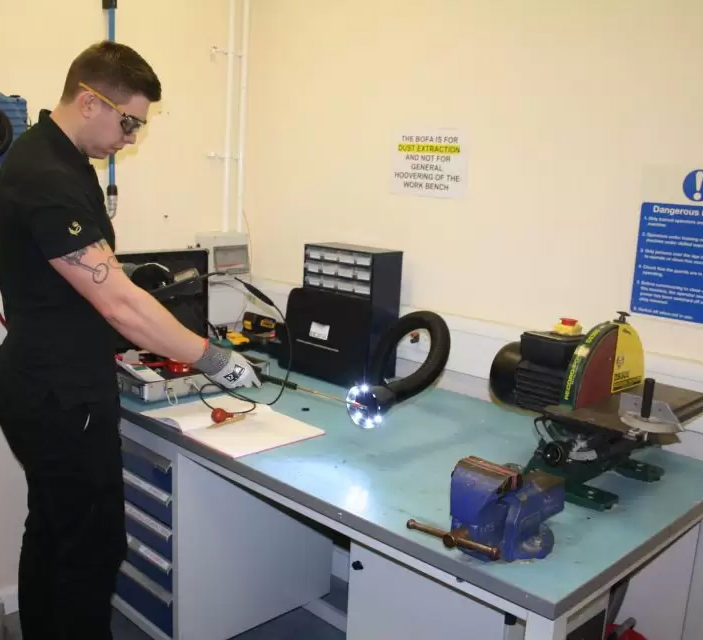 What does LEV testing involve?
In conjunction with BOFA we can test all makes of LEV equipment, these include: Hand soldering (tip and volume extraction), Fume cabinets, Re-flow ovens, Wave solder Ovens, Laser engraving and marking, Printing, Dust extraction, Milling, Routing, Nail polish application (beauty salons).
The thorough examination and test checks the control effectiveness of your LEV systems. The test includes air flow and pressure measurements which are then compared to the commissioning report, issued when the equipment was installed. The control effectiveness will be demonstrated to the user by means of a smoke test or Tyndall lamp.
A test label will be attached to each machine indicating the date of the test and the next test due date. A "Failed" label will be attached to any equipment which fails to meet the regulations, and use of the equipment should be ceased until a repair has been facilitated.
How do Businesses comply?
Regulation 9 of the Control of Substances Hazardous to Health regulations (COSHH), as detailed in HSE Guide HSG258, requires that any measures taken to provide effective control through the use of Local Exhaust Ventilation (dust or fume extraction equipment) must be maintained in effective working order and also in good repair.
In order to be compliant employers must ensure that LEV equipment has been suitably installed and must be thoroughly appraised and tested at least once every 14 months (COSHH, Regulation 9.2). Records should be kept for at least 5 years and should include detail of any repairs carried out as a result of the test. Solder Connection recommends scheduling in your LEV Test every 12 months.