PCB Cleaning Chemicals
Electrolube is a leading manufacturer of electro-chemicals for the electronics and industrial manufacturing industries.
PCB Cleaning Chemicals
Cleaning is an essential process within electronics to remove potentially harmful contaminants during PCB manufacture, including flux, solder and adhesive residues.
Electrolube offer a range of solvent-based and aqueous electronic cleaners. Solvent-based systems are very efficient, allowing a convenient single-stage process, in comparison Electrolube's Safewash range was developed to replace ozone depleting chemicals as well as offering a solution to reduce
solvent emissions. The Safewash range is the most effective family of water-based cleaners available on the market.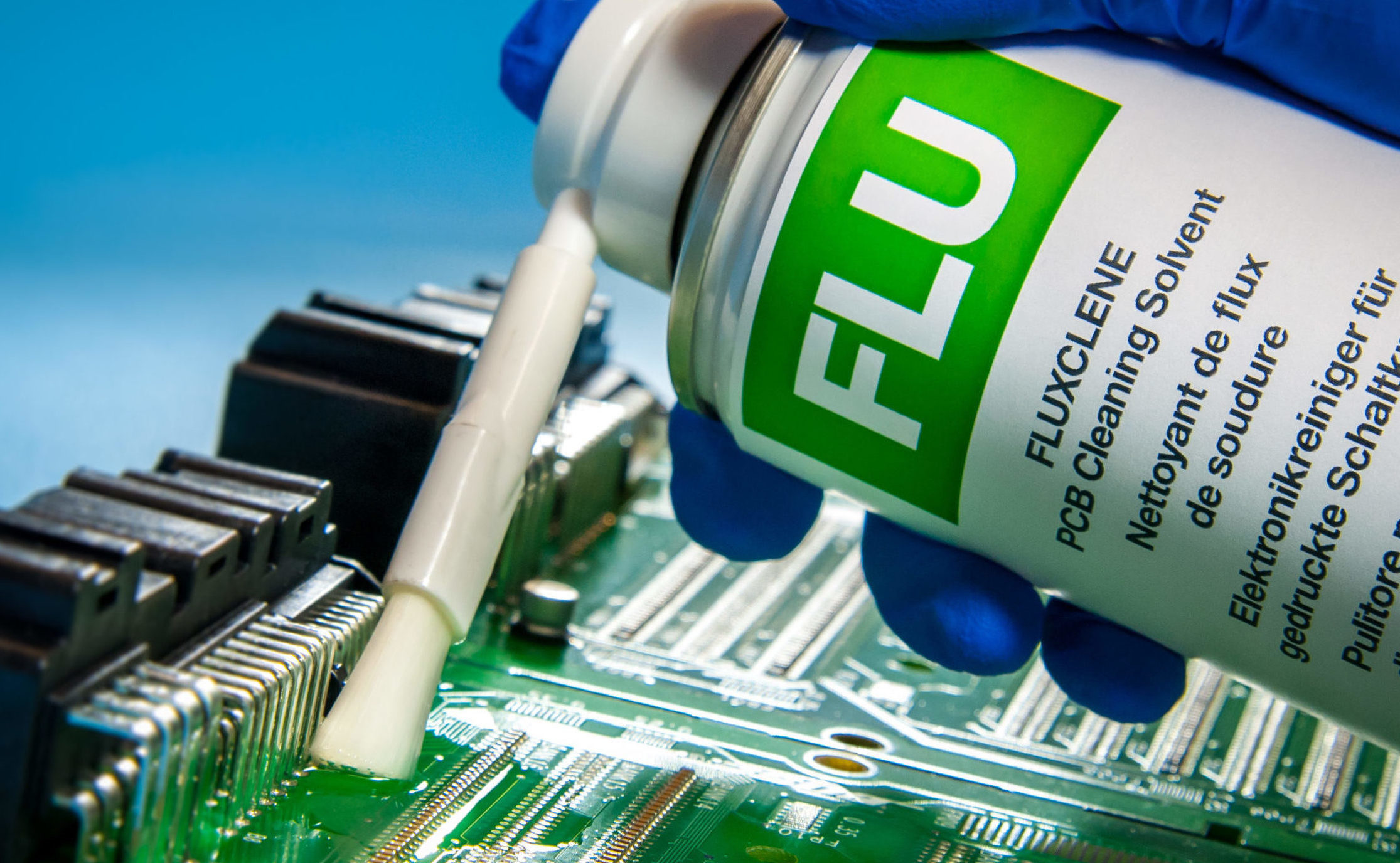 Safewash
Product
Pack Size(s)
Ultrasonic
Pressure /
Dishwasher
Spray under
Immersion
Screen & Stencil
Cleaner
No Clean Fluxes
Flux / Ionics
Uncured Paste
SWAS
5L / 25L / 200L
****
No
Yes
No
****
****
**
SWAT
5L
Yes
****
Yes
Yes
***
***
***
SWAX
5L
Yes
Yes
Yes
****
No
**
****
SWNP
25L
Yes
No
Yes
No
No
No
No
Solvents
Product
Pack Size(s)
Flashpoint
(°C)
Boiling Point
(°C)
Evaporation rate
(ether=1)
WEL
(ppm)
No Clean
Fluxes
Flux /
Ionics
Uncured
Paste
LFFR
400ml
0
>80
16
300
****
***
**
IPA
1L / 5L
12
82
6
400
No
**
**
HFFR
400ml / 5L
7
>80
11
300
***
****
**
FLU
400ml / 1L /
5L / 25L
-20
-
16
300
***
***
-
ECSP
400ml / 6.25L
-48
36
1.5
500
CCC
200ml
-
45
Very Fast
-
ULS
200ml / 1L /
5L / 25L
-20
>80
16
300
No
**
**
Wipes
| Product | Pack Size(s) | Fabric Type | Fabric Weight | Size (mm) | Density (g/mL) |
| --- | --- | --- | --- | --- | --- |
| ARW | 300pk / 500ml | Non Woven | 41gsm | 220 x 375 | 1 |
| SSW | 100pk | HydroSpun | 41gsm | 200 x 280 | 0.85 |