Dosing Accessories
Reduce waste and ensure accurate mixing with Kisling's Dosing Equipment & accessories, design to be used with Kisling adhesives.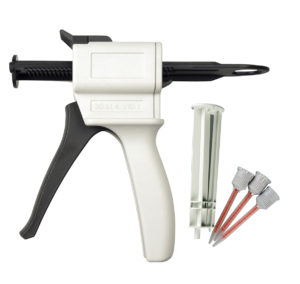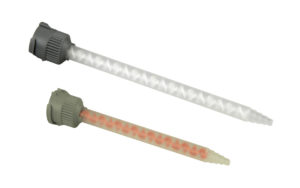 Dosing Equipment and Accessories
Kisling has manufactured a comprehensive range of instant, anaerobic and structural adhesives since 1989 covering a variety of applications from thread locking, flange sealing, instant and structural bonding. To consistently apply these adhesives and sealants together with gaining maximum strength within a short cure window we need to ensure the resin and hardeners are mixed correctly in the designated ratios. Failure to do this will lead to bond failure.
Kisling therefore offer a complete range of mixing nozzles, manual and pneumatic applicators and general dosing / dispensing consumables. Many of the adhesives are supplied in dual cartridges which need to be fitted into hand held applicators, you will then need to twist and secure the correct helix nozzle to the cartridge before application on the work piece.
The stated pot life for individual products are all different and will apply to the adhesive that is located within the mixing helix of the nozzle, once the pot life has been exceeded a new nozzle will need to be fitted.
| Part Number | Description | Size |
| --- | --- | --- |
| 4472007 | Helix mixer - 1:1/2:1 System B | 50ml |
| 4472033 | Helix mixer - 10:1 | 10ml |
| 4472101 | Manual Dispensing Gun - 1:1/1:2 | 50ml |
| 4472105 | Manual applicator Gun - 10:1 | 50ml |