Encapsulation Resins
Electrolube is a leading manufacturer of electro-chemicals for the electronics and industrial manufacturing industries.
Encapsulation Resins
Resin systems are designed to protect and insulate printed circuit boards (PCBs) and electronic components from the threats of harsh and challenging environments, including: moisture, vibration, thermal or physical shock and general contamination. By encapsulating components or potting the entire device, resins can form a complete barrier against such environments offering superior performance under extreme conditions.
Electrolube manufacture a range of Resins and Potting Compounds. Our most popular products are listed below but a wider variety is available on request.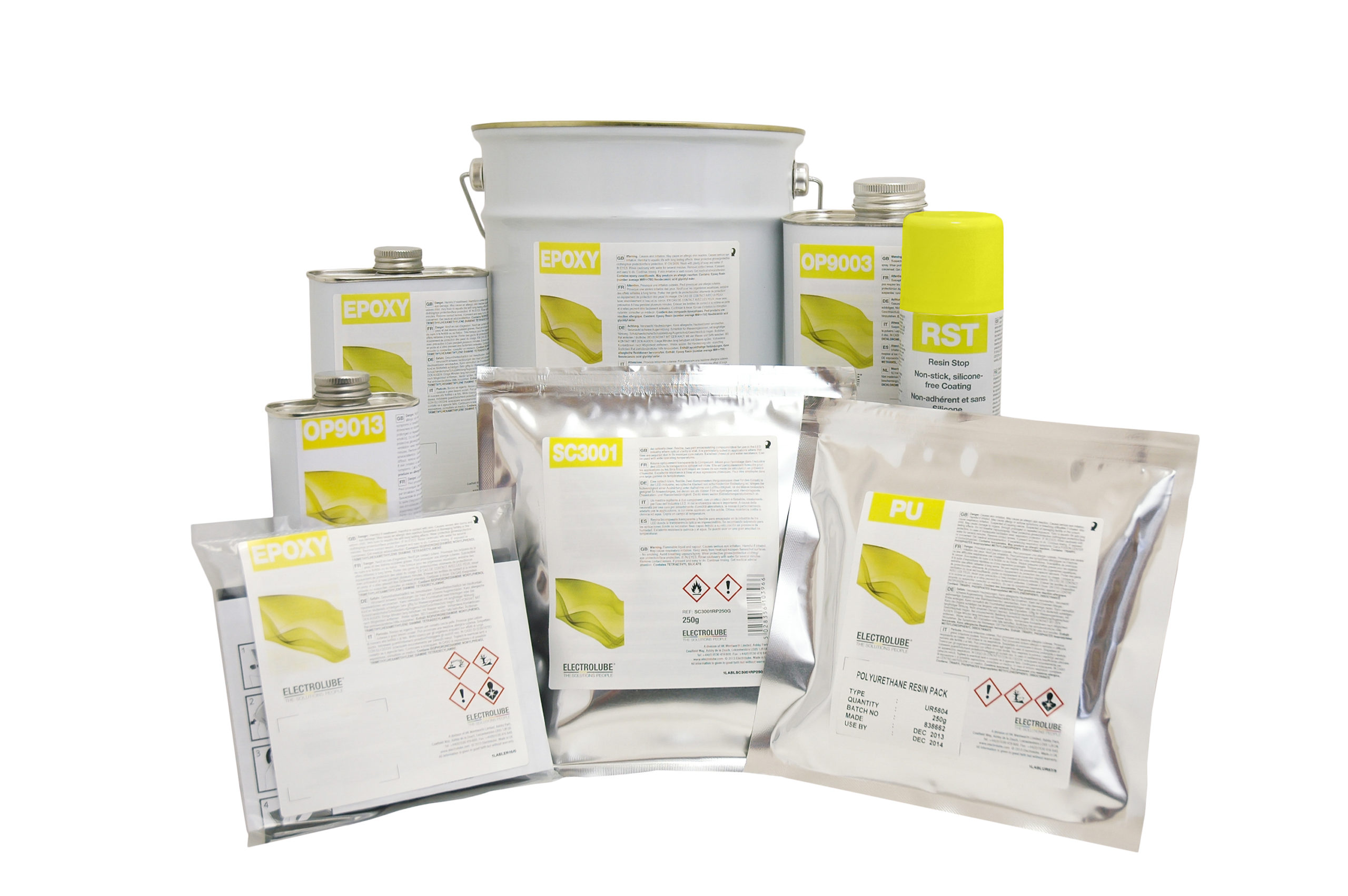 Epoxy Based
Product
Pack Size
Colour
Mix Ratio
(By Weight)
Useable life
(Mins @ 23°C)
Cure Time
(Hrs @ 23°C)
Temp Range
(°C)
Shore Hardness
ER1122
5kg
Amber
1:1
90
48
-40 to 120
D80
ER2188
250g / 500g /
10kg / 5kg
Black
11:1
60
24
-40 to 120
D85
ER2219
35ml
Black
N/A
6 Months
40 mins
@ 90°C)
-40 to 120
D75
ER2220
250g
Grey
20.8:1
120
24
-40 to 130
D90
ER2221
250g / 5kg
Black
13.9:1
60
24
-40 to 150
D90
ER4001
250g
White
11:1
60
24
-40 to 150
D90
Polyurethane Based
Product
Pack Size
Colour
Mix Ratio
(By Weight)
Useable life
(Mins @ 23°C)
Cure Time
(Hrs @ 23°C)
Temp Range
(°C)
Shore Hardness
UR5041
250g / 5kg / 25kg
Black
36.4:1
20
24
-60 to 125
A85
UR5044
250g / 5kg / 10kg
Dark Blue
13.4:1
25
24
-70 to 120
A40
UR5097
250g / 5kg /
10kg / 25kg
Black
7.46:1
20
24
-40 to 110
A85
UR5528
50G / 250G / 5kg
Black
2.4:1
20
24
-50 to 125
D57
UR5547
500g / 5kg / 10kg
Black
5.5:1
20
24
-50 to 120
A85
UR5604
250g / 5kg / 25kg
Black
5.2:1
40
24
-40 to 130
A75
UR5608
250g / 500g /
1kg / 10kg
Black
6.93:1
50-100
24
-40 to 135
D50
UR5634
50ml / 250g / 5kg
White
0.9:1
15
24
-40 to 120
A80