Contact Lubricants
Electrolube is a leading manufacturer of electro-chemicals for the electronics and industrial manufacturing industries.
Contact Lubricants
Contact lubricants are specially formulated greases and oils that reduce friction and enhance the electrical performance of current carrying metal interfaces in switches and connectors. Electrolube products are electrically insulative in thick films, preventing tracking in ultra thin films, i.e. between closed metal contacts they allow the current to flow, owing to the 'Quantum Tunnelling Effect'.
Electrolube has earned an unsurpassed reputation for the manufacture and supply of specialist lubricants to the automotive, military, aerospace, industrial and domestic switch manufacturing sectors. The range has been developed over the years to accommodate many advances in such rapidly advancing industries; combining excellent electrical properties and lubricity with plastics compatibility.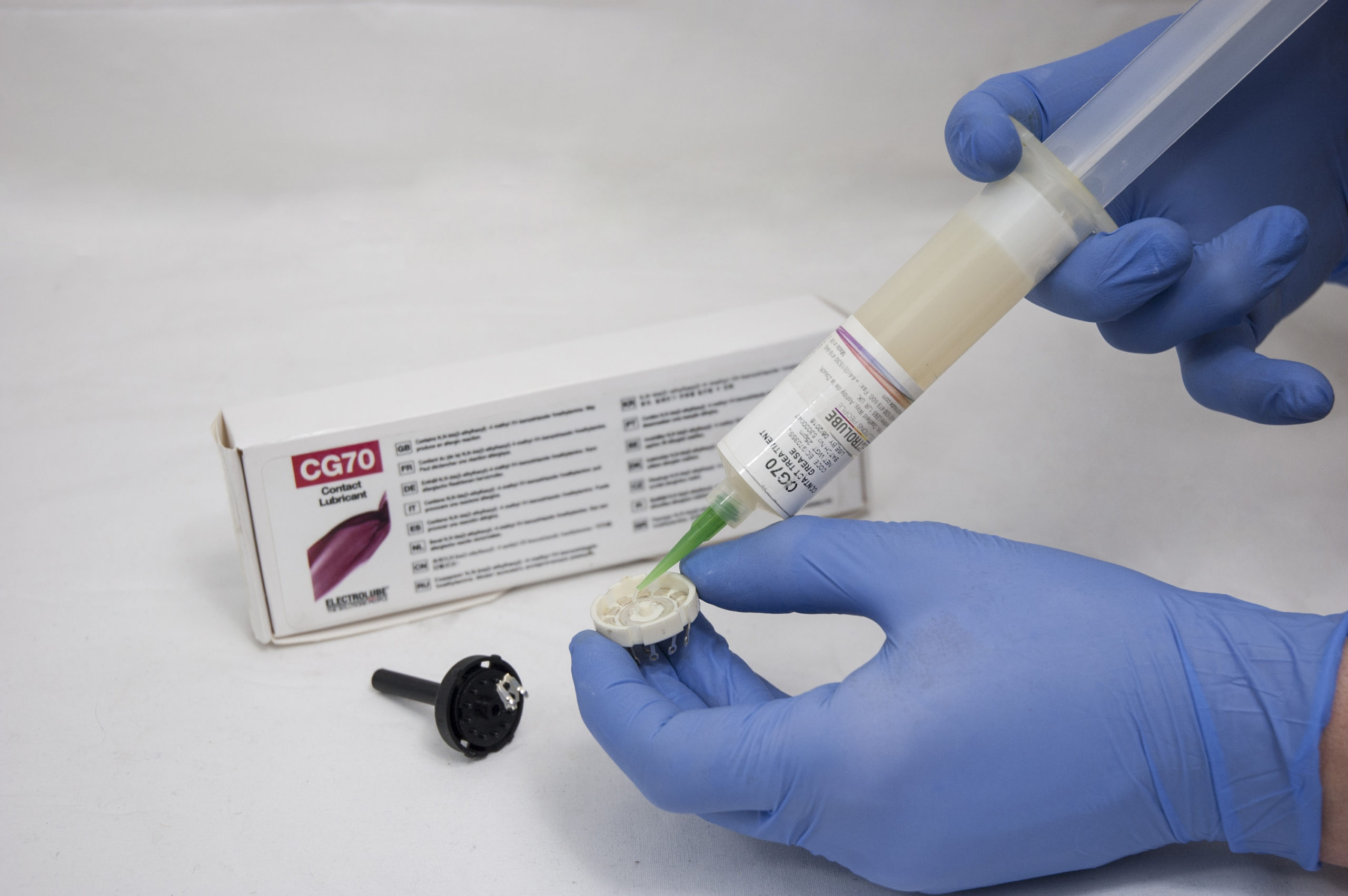 Product
Type
Pack Size(s)
Temp Range (°C)
Density (g/mL)
Bleed
Drop Point (°C)
Colour
CO70
Oil
500ml
-55 to 130
0.85
-
-
Colourless
CG52B
Grease
1kg, 25kg
-45 to 130
0.995
5 %
> 230
Light Brown
CG53A
Grease
35ml / 1kg /
12.5kg / 25kg
-35 to 130
0.995
5 %
200
Cream
CG60
Grease
35ml / 310ml / 800g /
10kg / 20kg
-45 to 130
0.85
5 %
200
Cream
CG71
Grease
25kg
-50 to 130
0.85
5 %
200
Cream
CTG
Grease
35ml / 20kg
-50 to 160
0.85
<5 %
> 200
Cream
EGF
Grease
1kg
-25 to 300
1.9
5 %
> 250
White
EOF
Oil
1kg
-25 to 300
1.91
-
-
Colourless
EPC
Electro-Plating
Compound
1kg
-40 to 135
1
5 %
> 250
Red
LCG
Grease
20kg
-45 to 130
0.85
5 %
200
Cream
SGA
Grease
1kg / 25kg
-40 to 125
1
5 %
267
Beige
SGB
Grease
20ml / 35ml / 200ml /
1kg/ 12.5kg / 25kg
-35 to 130
1.11
6 %
250
Beige
SOA
Oil
55ml / 5kg
-40 to 155
0.98
-
-
Light Brown
SOB
Oil
200ml / 1kg
-40 to 130
1.002
-
-
Colourless
SPG
Grease
35ml / 900g /
10kg / 20kg
-40 to 125
0.9
5 %
> 250
Light Brown