PCB Production Tooling
Global Datum create bespoke design & manufacturing solutions for all your Production Tooling requirements.
PCB Production Tooling
Global Datum's design & engineering team has over 25 years design experience within the electronic assembly sector. Utilising your PCB digital data we can produce a range of quality bespoke assembly tooling to cover your process requirements.
From print support plates for DEK and MPM printers, reflow carriers, wave solder pallets, robotic pick up fixtures and inspection overlays for inexpensive visual inspection simply discuss with us your specific need.
Quality approved solutions generally delivered within 5 working days – can be reduced if required sooner. Assistance available from design team throughout, to ensure tooling efficiency.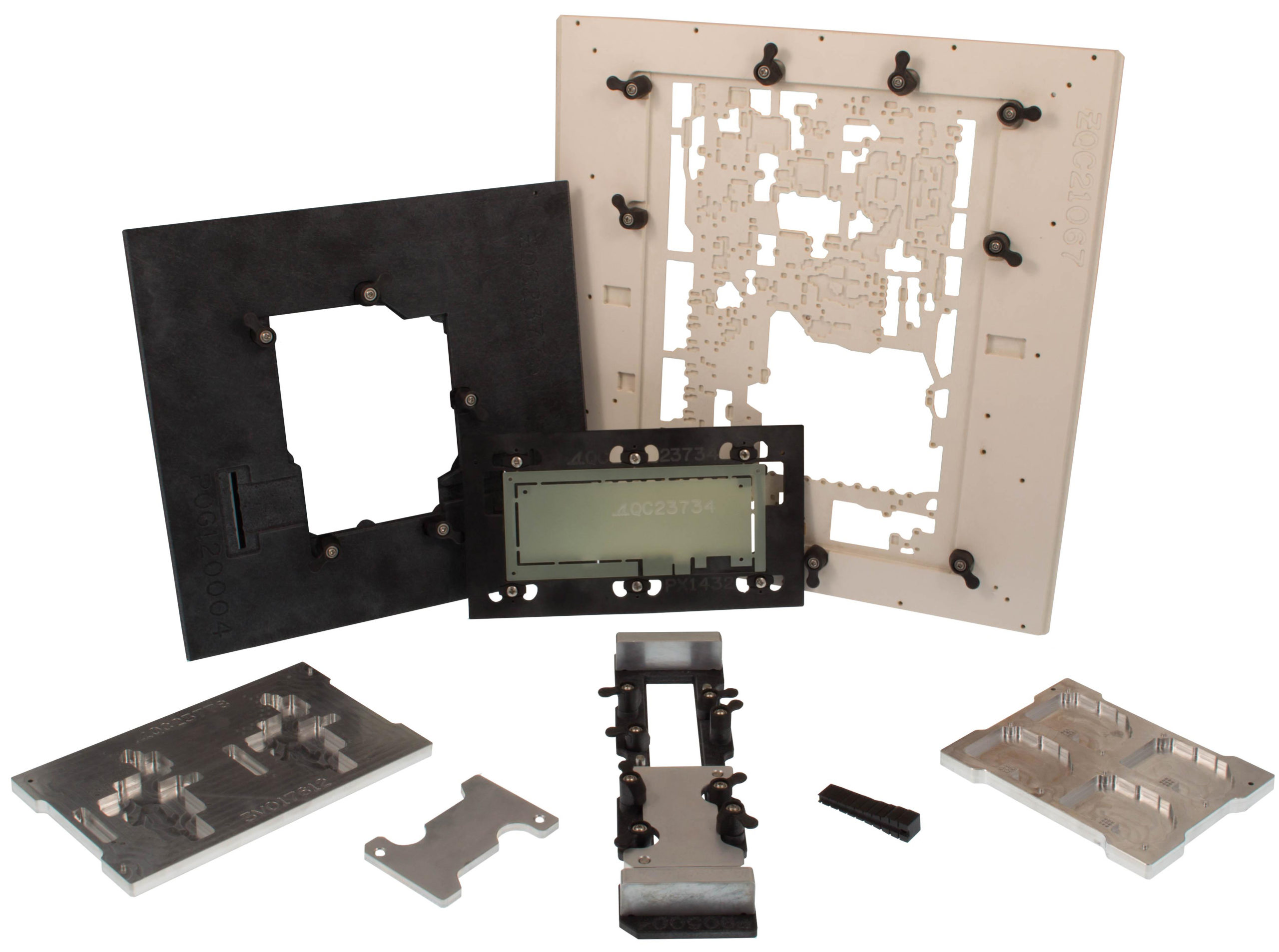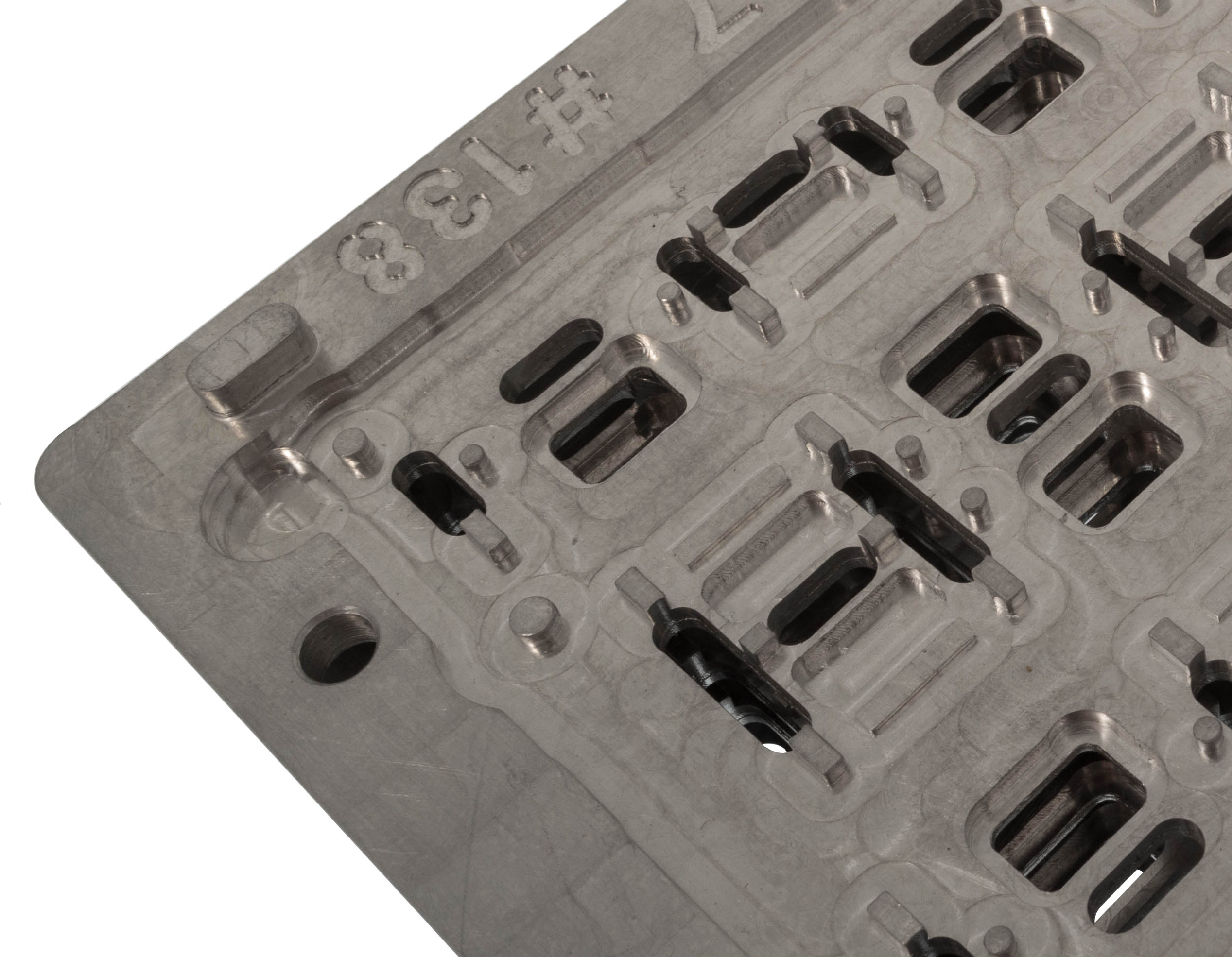 What Information is required?
Gerber RS274x (Legacy Gerber Files will take longer to process).
Top & Bottom – Silk, Paste, Mask
Profile
Drill Files
PCB Thickness
Pictures/Assembly Drawings (Beneficial if available)
Process Order – For DEK Plates & Reflow Carriers (Advises which side is recessed).
Files can be emailed in a Zip File or ODB++.
Note: We do not need inner, ground or top and bottom copper layers.
Excellent service
'I have used Solder Connection for many years while working in different companies. They have provided excellent service and advise on all types of equipment involved with electronics manufacture. The service they also provide with jig manufacture and design has been very good quality and cost effective'.
Outstanding service and design
"Being a long standing customer of both Solder Connection and Global Datum it made sense for them to go in to partnership. A perfect arrangement of professional service and quality products from a supportive team!"
Our go to company
"The Design service is very fast and usually meetings our requirements on the first draft. The tooling we have received is of a high quality with no need to revisit or rework. This is now our go to company for tooling and would recommend to anyone!"
Tremendously impressed
"From the word go we have had full support and help with our tooling, I was tremendously impressed with how quickly designs were drawn up and how quick our first sample arrived, because of this I will use them for all our jig requirements going forward"
Happy with service and result!
"First job delivered to customer. Really happy with service and result!"
We're all very impressed on this end
"We've received the fixtures a few days ago and they're already up and running in our production cells. Compliments to the chef on the finish quality and turnaround guys, we're all very impressed on this end."
Excellent service throughout the design
"We received excellent service throughout the design and manufacture of our pallets. They worked very well during production and we will have no hesitation in using Solder Connection in the future"
Cannot fault the service
"Cannot fault the service from viewing the initial design, receiving the quotation and the overall quality of the final product really is first class"
Customer experience was faultless
"Very pleased with the overall design, quality of the finished products and the overall customer experience was faultless. Delivered on time".
Provided outstanding service
"Solder Connection provided outstanding service… takes into consideration all customer requirements and finds the best possible solution. Tools supplied are always manufactured to high quality and supplied within matter of days."
Knowledge and expertise
"To meet stringent deadlines electronic component supporting jigs were required urgently…  suggested solutions proposed to Elite the following day.. Jig samples were completed and despatched arriving in Elite next day. Final solution achieved within a very short time. It reflected the knowledge and expertise held."
Perfect Tooling
"Solder Connection are fully conversant with the needs of the industrial electronics assembler… We can now acquire perfect tooling by producing a concept drawing with Gerbers or DXFs… Drawings are completed in hours… Finished fixtures are only ever a few days away'"
Highly recommended
"Highly recommended, excellent process knowledge together with well-engineered designs all supplied within a couple of days, cannot fault these two experienced companies"
Speedy turn round time
"Excellent understanding of our process, a prompt quotation and proposed tooling drawing for review within hours… the speedy turn round time enables us to meet our already small cycle time."
Design service is excellent
"Design service is excellent, with very good communication from initial enquiry right through the process… Pricing is very competitive and the quality of tooling received always meets our expectations."
Excellent quality production tooling
"The provided designs have been brilliant and efficient… jigs finished to high standard and accuracy. Attention to detail… second to none and I would recommend… to anyone needing excellent quality production tooling."
An excellent supplier
"[We] consider Solder Connection an excellent supplier in PCB Tooling. Customer service and support are always available and the pricing is very competitive. The end product is built to a high standard… Happy to use their services for future production related tasks"
High level of quality & technical expertise
"We are very happy with the partnership of Solder Connection and Global Datum. The service provided is professional, rapid with a high level of quality & technical expertise".
Fully met our expectations
"Fully understood our requirements from the initial design concept through to the finished product, very well engineered and manufactured to a high quality. Fast turnaround. Fully met our expectations"