Industrial Solder Flux
A comprehensive range of liquid and paste Solder Flux for the Industrial sector, including legacy products Bakers Soldering Fluid® and Fluxrite®.
Industrial Solder Flux
Designed to support our Electronics fluxes, Solder Connection manufacture a comprehensive range of fluxes for industrial applications. Many of these fluxes have been developed to support soldering 'hard to solder' alloys (including Stainless Steel) and improve flux application where liquid fluxes are unsuitable.
For technical advice on our full range of Industrial fluxes contact our Sales Office and ask to speak to one of our technical sales team.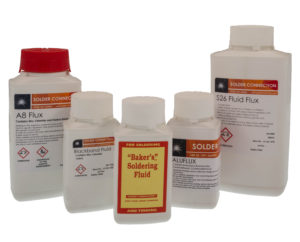 | Product | Form | Alloy to Use | Solderable Metals | Application |
| --- | --- | --- | --- | --- |
| TSC AluFlux | Liquid | 60/40 & 99C | Aluminium | Aluminium only |
| Powerflow Flux | Paste | Any lead/lead-free | Copper | General Use / Plumbing |
| Alcho-Re | Paste | 60/40 & 99C | Copper & Brass | High Temp & Motor Windings |
| TSC 920 | Liquid | Any lead/lead-free | Copper & Brass | Radiator Soldering |
| Bakers Soldering Fluid® | Liquid | Any lead/lead-free | Copper, Brass & Bronze | General Use |
| Fluxrite® | Paste | Any lead/lead-free | Copper, Brass & Bronze | General Use / Plumbing |
| TSC WL1 | Liquid | Any lead/lead-free | Copper, Brass & Pewter | Water Soluble |
| TSC Blackband | Liquid | Any lead/lead-free | Mild Steel, Iron, Brass & Bronze | General Use |
| TSC A8 | Liquid | 96S | Stainless Steel | General Use |
| TSC S26 | Liquid | 96S | Stainless Steel & Nickel Alloys | General Use |