Solder Flux
We supply a comprehensive range of Solder Flux for the Electronics sectors, including Qualitek's line of No clean and rosin based Liquid Flux.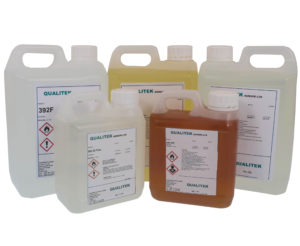 Qualitek Solder Flux
Qualitek manufacture a comprehensive range of flux for the electronics assembly market within the UK. These products include the latest in No Clean technology for wave and selective soldering and VOC free flux technology.
These materials are manufactured with short lead times and low MOQ levels to suit your specific requirements.
No Clean
| Products | Solid Content | J-STD | Halogen Free | Halide Free | VOC Free | Pin Testability | Application |
| --- | --- | --- | --- | --- | --- | --- | --- |
| 302 | Low - 2.3% | ORL0 | x | x | | High | Wave & Selective |
| 355-35 | Medium 7.5% | ORL0 | | x | x | High | Wave & Selective (Lead Free) |
| 381 | Low - 3.3% | ROL0 | | x | | High | Wave, Selective & Rework |
| 399-42 | Low - 4.5% | ORL0 | x | x | | High | Wave & Selective |
Rosin Based
| Products | Solids Content | J-STD | Pin Testability | Application |
| --- | --- | --- | --- | --- |
| 285-15 | High - 15% | ROL1 | Low | Wave & Selective - Military Approved |
| 285-25 | High - 25% | ROL1 | Low | Wave & Selective - Military Approved |
| 535MIL | High - 35% | ROM1 | Low | High Temperature Dipping |
Flux Gels
| Products | J-STD | Key Features | Application |
| --- | --- | --- | --- |
| PF200 | ROL0 | RMA Flux | Re-work/BGA |
| PF608 | ROL0 | No Clean Flux | Re-work/BGA |
| PF708 | ORM0 | Water Soluble Flux | Re-work/BGA |