ESD Bags
To eliminate electrical build up, start from the ground up. Anti-Static bench & Floor matting, cut to your requirements or available in bulk rolls.
When it comes to manufacturing, one of the most important aspects to consider is safety. In particular, ESD bags can play a critical role in preventing electrostatic discharge (ESD). This article will discuss why ESD control is so important in manufacturing and how ESD bags can help. We'll also take a look at some key considerations when selecting the right bag for your needs.
What Are ESD Bags and What Are They Used For?
ESD bags are one of the most preventative and effective methods used against ESD to protect electrical components and devices from static discharge. These bags were first utilised in the late twentieth century beginning with pink poly bags in the 1960's, followed by static shielding bags in the late 1970's. Over recent years, moisture barrier bags have been widely utilised in Surface Mount Technology (SMT). They have also proven to be effective for use in the military industry.
There are three types of primary threats that electronic devices should be protected from.
Direct Discharge (ESD) – A direct static discharge to a bag can affect the electronic device inside and cause it to melt, fuse the circuit, or reach a very high current.
Static Fields – Static fields can cause destructive currents in circuit conductors. Field differentials can break down the circuit dielectric.
Tribocharging – Friction between the electronic device and bag can create damaging static voltage and fields.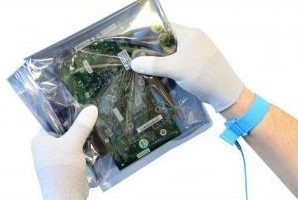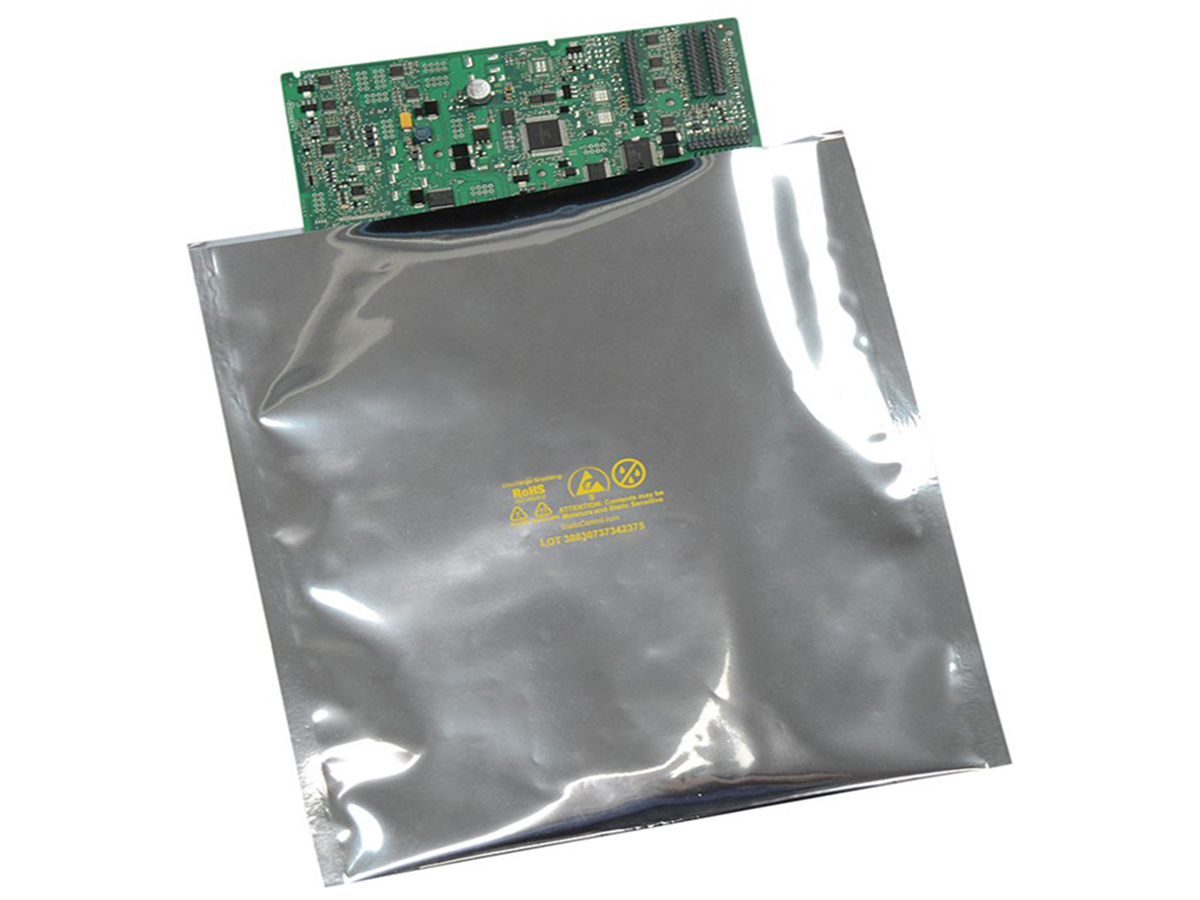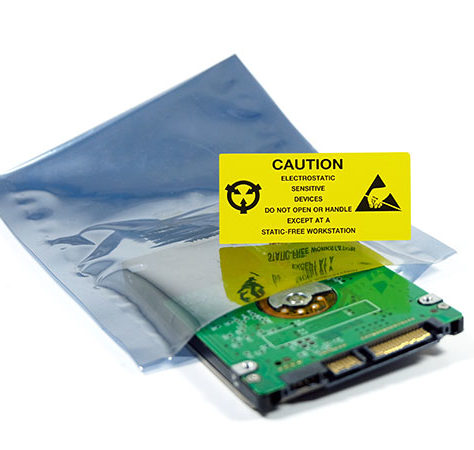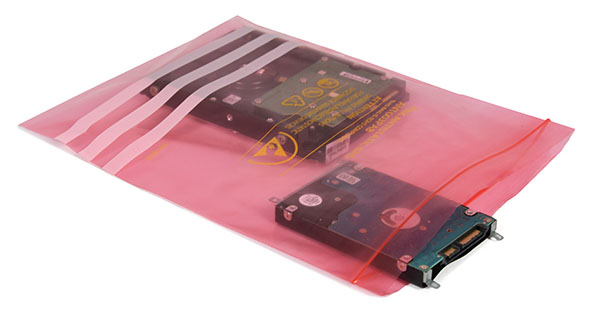 Types of ESD Bags
There are many types of ESD bags available that can protect electronic devices, the most commonly used in electronics manufacturing are static shielding bags, anti-static bags, and moisture barrier bags.
Static Shielding bags are used for storing and transporting static sensitive electronic devices and components such as PCBs, semiconductors, computer CPUs, integrated circuits and TTL chips. Static shielding bags provide a conductive barrier, known as a 'Faraday Cage', around your electrical components to ensure full electrostatic discharge protection.
Anti-static bags provide safe transportation and storage of non-static sensitive items (e.g. nuts, bolts) into an electrostatic protected area (EPA). Unlike the static shielding bag, they are made from low-charging materials which minimise the build-up of static charge. While they have no shielding ability to protect the electronics inside, they will not build-up a charge if rubbed against another material.
Moisture barrier bags are specifically used to store and transport electronic devices and components such as PCBs, SMDs and integrated circuits that are susceptible to both static and moisture damage. They are suitable to use in humid environments and most are Jedec compliant. To prevent moisture damage to the contents inside, the bags have a layer of aluminium which blocks the moisture from entering the bag.
Key Factors in Choosing the Right Bag
Use – In what specific applications does the bag come in handy? If you're looking to pack non-ESD sensitive (ESDS) components inside an EPA, then you can opt for an anti-static bag. Shielding bags are a great pick if you need to pack and transport ESDS components, as they provide excellent protection against ESD damage. Moisture barrier bags, which are specifically designed to keep your electronics protected from corrosion and moisture while they're in storage.
Material – The many types of ESD bags serve different functions, which means they're also constructed from different materials. Anti-static bags are typically made from industry approved polyethylene laminates with an anti-static coating. Conductive bags are made from polyethylene as well but loaded with carbon. Shielding bags consist of layers of static dissipative polyethylene, aluminium shield, polyester, and topped with a static dissipative coating, they also include the option of having bubble cushioned layers. Moisture barrier bags are made of static dissipative polyester, aluminium shield and static dissipative polyethylene. For maximum shielding capability, a moisture barrier bag can be constructed using a heavy metallised structure.
Features – Another factor to consider is the characteristics of the bag. Does the bag come with low-charge generation properties? What's the electrical resistance of the bag's materials? Is the bag thick enough to properly hold electronics? Will the bag be big enough to fit my electronic device? Does it create a Faraday Cage effect? Shielding and moisture barrier bags have a Faraday Cage feature, effectively protecting the bag's contents from ESD. Other features to consider are puncture resistance, durability and whether the bag comes with a resealable grip. It's also crucial that the bags satisfy the necessary technical requirements.
Cost – Generally, bags that offer shielding protection are higher in cost compared to bags with little to no shielding properties. This makes anti-static bags the least expensive among the types of ESD bags. Conductive bags are lower in cost than shielding and moisture barrier bags but slightly higher than anti-static bags.
Shelf life – Anti-static bags are generally recommended to be used within 2 years. For shielding bags, their typical shelf life is more than 3 years. Conductive bags can have a shelf life of more than 5 years.
Size – Choose an appropriate bag size for the items you're planning on handling, storing or transporting. ESD bags vary in size, from ones that can hold microchips to bags that will allow you to store motherboards.