Conformal Coatings
Electrolube is a leading manufacturer of electro-chemicals for the electronics and industrial manufacturing industries.
Conformal Coatings
A conformal coating is a thin polymeric film applied to a printed circuit board (PCB) in order to protect the board and its components from the environment and to prevent corrosion. It is designed to cover and protect solder joints, the leads of electronic components, exposed traces, and other metallised areas from corrosion, ultimately extending the working life of the PCB.
Electrolube manufacture a range of Conformal Coatings covering a range of application methods and materials. Below are the most common Conformal Coatings, others may be available through our Sales Office.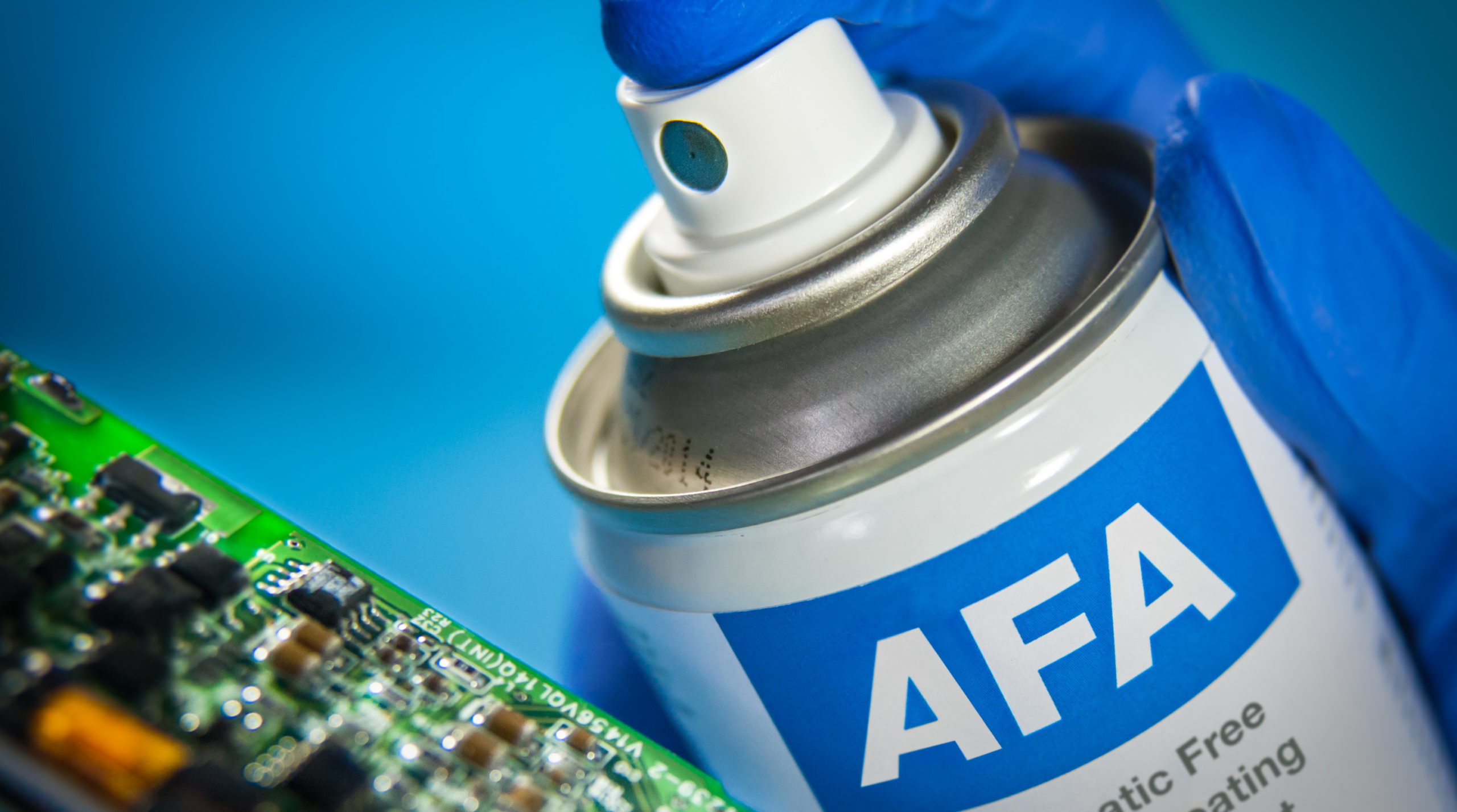 Acrylic
Product
Pack Size(s)
Temp Range (°C)
Touch Dry
(Mins @ 20°C)
Cure Time
(Hrs @ 20°C)
Flashpoint (°C)
Colour
HPA
200ml / 5L
-55 to 130
10-15
24
27
Colourless
APL
15ml / 400ml / 5L
-55 to 125
10-15
24
-4
Colourless
AFA
200ml / 5L
-65 to 125
5-10
24
-7
Colourless
AFAF
30ml / 5L
-65 to 125
5-10
24
-7
Colourless
AFAS
5L
-65 to 125
10-15
24
33
Colourless
Silicone
Product
Pack Size(s)
Temp Range (°C)
Touch Dry
(Mins @ 20°C)
Cure Time
(Hrs @ 20°C)
Flashpoint (°C)
Colour
DCA
200ml / 5L
-70 to 200
50-55
2 (+24)
27
Clear/Black/Red
DCB
5L
-70 to 200
50-55
2 (+24)
27
Black
DCR
5L
-70 to 200
50-55
2 (+24)
27
Red
Other Products
| Product | Pack Size(s) | Temp Range (°C) | Flashpoint (°C) | VOC Content | Density @ 20°C (g/mL) | Application | Colour |
| --- | --- | --- | --- | --- | --- | --- | --- |
| CCRG | 1L | - | -17 | 98% | 0.95 | Remover Gel | Colourless |
| CPL | 200ml | -50 to 100 | 12 | 79% | 0.79 | Protective Lacquer | Straw |
| DCT | 5L | - | 27 | 100% | 0.87 | Thinner | Colourless |
| FPC | 5L | -40 to 200 | None | - | 1.44 | Polymer Coating | Colourless |
| FTH | 5L | - | 27 | 100% | 0.88 | Thinner | Colourless |
| HFS | 5L | - | None | - | 1.44 | Fluorinated Solvent | Colourless |
| PCM | 250ml | - | - | - | 1.1 | Peelable Mask | Colourless |
| PCS | 250ml | - | - | - | 1.0 | Peelable Mask | Colourless |
| PTH | 5L | - | 39 | 100% | 0.79 | Thinner | Colourless |
| PUC | 5L | -55 to 130 | 38 | 66% | 0.9 | Polyurethane Based | Amber |
| UAT | 5L | - | <0 | 100% | 0.85 | Thinner | Colourless |